As a company, we feel very strongly about making holsters that effectively support American gun owners. In our estimation a holster should meet 3 core objectives:
Ensure the SAFE carrying of a firearm
Stage the gun for Effective Access
Concealability and Comfort
In order to meet those 3 objectives we design every holster to meet the following guarantees:
Complete protection for the trigger guard. 100% safe.

Proper (and where possible adjustable) retention.

Highest quality belt attachments for retention of the holster to the belt.

Black and other core colors are made with .080" Boltaron®, other colors from .080" Kydex®.

Every holster is molded and tested with a REAL gun. No blue guns.

No sharp edges or square corners.

AIWB holsters come standard with a wing or claw and are compatible with the industry standard Modwing, Dark Wing, and RCS Claw.

All AIWB & IWB holsters are compatible with our universal wedge as well as most other wedge products available on the market.

Carefully designed to allow a full grip on the draw.

Optimized ride height for proper clearance above belt.

Sweat guard cut to the specific firearm.

Trigger guard relief cut for a smoother draw.

Optic compatible. Ready to go with your Red Dot.

AIWB holsters are PHLster Engima compatible.

Compatible with suppressor height sights.

Every component is sourced from a US company and every holster is designed and hand-crafted here in the USA.

Threadlocker included. Never lose a screw again. (User Applied)

A lifetime warranty on craftsmanship and materials.
Here is an illustration that helps point out some of those design features in our flagship holster, The Lexington.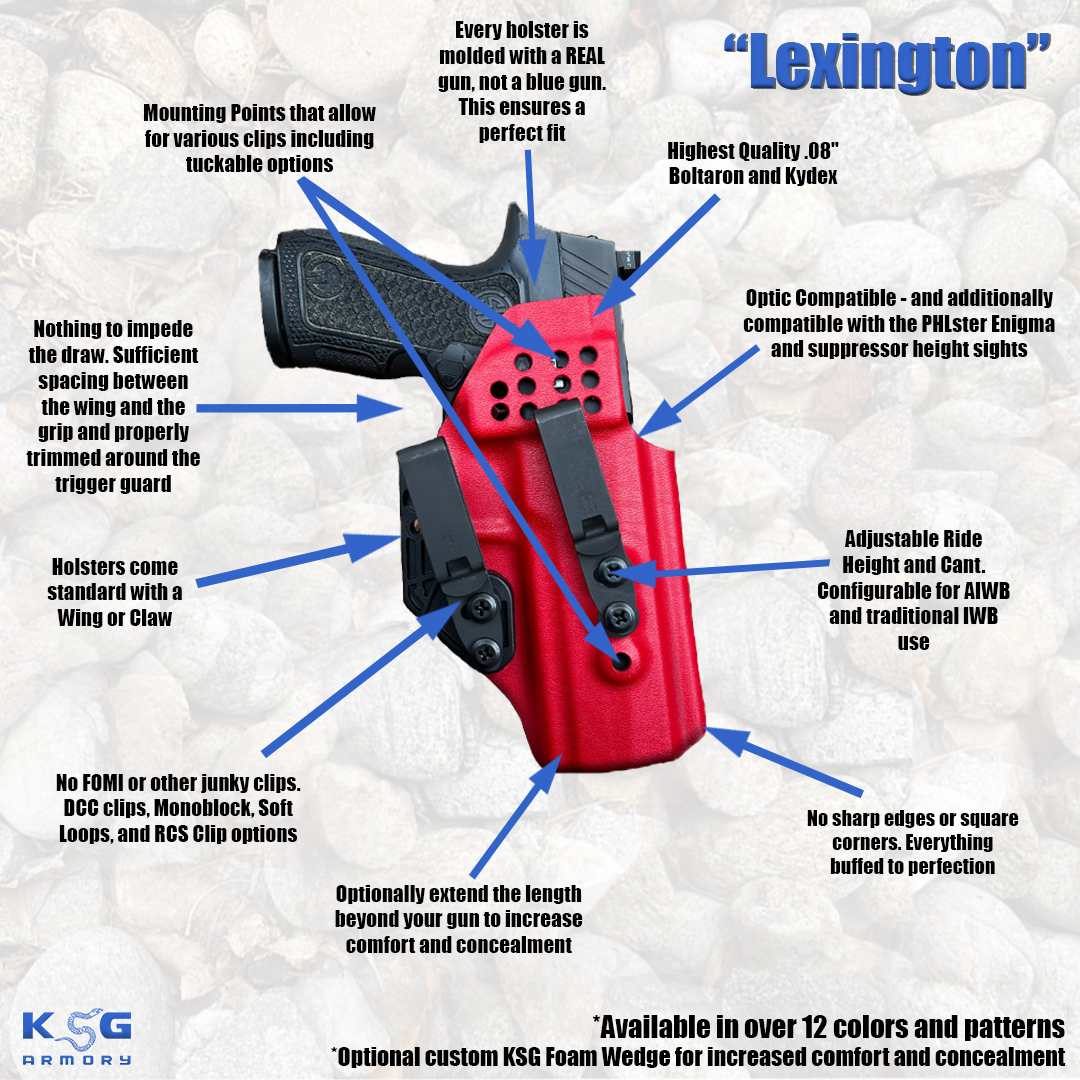 Boltaron® is a registered trademark of Boltaron Performance Products, LLC.
Kydex® is a registered trademark of Sekisui Polymer Innovations, LLC.