Here's my first impressions on the 509.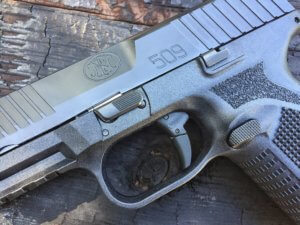 Roughly comparable in size and shoot-ability to a G19.  That's a good thing.
Trigger is a little gritty on take up especially, but with a very nice reset.  Didn't notice it while shooting.  Several friends who have one have said that it smooths out with use.  Apex also offers a replacement.  I wouldn't complain about it for my personal gun, but it's worth mentioning for the trigger snobs.
Sights are the stock 3 dots, which I don't care for; I'd like an orange front with blacked out rear, if I can't just have a red dot. 🙂  I shot it almost as well as I can shoot with an RMR, so it's not a big complain on the accuracy front, it's just slower acquiring them when shooting fast.  This was at 7 yards, at a moderate pace, offhand.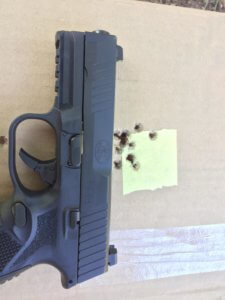 In its stock form: 3.8 out of 5.  Would carry.  Holsters available here.
https://ksgarmory.com/wp-content/uploads/2018/03/ksg-logo-300x75.png
0
0
Gabe New
https://ksgarmory.com/wp-content/uploads/2018/03/ksg-logo-300x75.png
Gabe New
2019-06-06 23:53:12
2019-06-07 00:21:53
FN 509 napkin notes